www.designandbuildwithmetal.com – Colorado Springs, CO – S-5! founder and CEO Rob Haddock has been named the 2015 recipient of the Metal Construction Association's (MCA) prestigious Larry A. Swaney Award, which honors an individual in metal construction who selflessly fosters the growth and betterment of the industry. The annual MCA award bears the name of the organization's first president. Swaney was also one of the group's founding members. 
The Swaney Award was presented to Haddock at the association's 2015 Winter Meeting, held in late January in Palm Springs, CA. Award recipients must exhibit generous commitment to the metal construction industry beyond personal gain, be involved in a leadership capacity, and have made significant contributions to the improvement of metal construction and its supporters.
"Rob has dedicated his professional career for the last 40 years to the advancement of metal roofing within the marketplace," said S-5! Vice President Keith Lipps. "He has been an influential voice in the promotion, research, and technical advancement of the entire industry, and not just his own corporate product line. He has consulted to many major metal roofing suppliers, assisting them to advance their product lines, develop training programs, initiate technology transfers, and more."
Haddock is also a prolific author with dozens of articles, white papers, and industry technical documents to his credit. His writings have been published in at least five languages, and he has lectured on metal roofing topics in a dozen countries. He is a generous philanthropist, donating his time, talents, and finances to numerous charitable endeavors around the globe.
"With his western hat, friendly smile, candid speak, and willing participation, Rob is one of the most recognizable personalities in the industry," Lipps continued.
Rob Haddock began his career as a metal building erector before founding S-5! and becoming a sought-after metal roofing consultant, inventor (he holds more than 30 patents), speaker, and author. He serves as an adjunct faculty member at the University of Wisconsin School of Engineering, is the director of the Metal Roof Advisory Group, Ltd., and pilots S-5!, which is the industry's leading manufacturer of metal roof attachment systems. Haddock has been a Lifetime Honorary Member and advocate of MCA since its beginning. He is also a member of CSI, MBMA, ASHRAE, ASCE, and ASTM. In 2012 he was a charter inductee to the Metal Construction Hall of Fame.
At the award ceremony, Haddock made special thanks to his family in attendance: sons Dustin and Shawn, daughter Lara, and their spouses, Rebecca and Jessica Haddock and Shane Dunnam. In addition, Haddock expressed gratitude for his staff and the many MCA friends and peers present.
"I am both honored and humbled to receive such a distinguished award and be recognized among the esteemed previous winners, especially remembering that Larry Swaney was the guy who extended a hand of friendship to me and invited me to speak to the MCA group back in 1985," Haddock said in a statement.
About The Metal Construction Association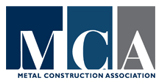 The Metal Construction Association brings together a diverse industry for the purpose of expanding the use of metal in construction through marketing, research, technology and education. Companies involved in MCA gain tremendous benefit from association activities that focus on research, codes and standards, market development, and technical programs. MCA's market development efforts increase the use of metal materials in construction through the education of the building and design communities about the benefits of metal. For more information about MCA, visit www.metalconstruction.org.
About S-5!


S-5! is the name of both a company and the world-renowned product it produces, the S-5! attachment clamp. Offered in variety of sizes and styles, the S-5! facilitates the attachment of a wide variety of items and accessories to metal roofs–including solar panels, snow retention products and more–without penetrating the roof surface. The company was founded by S-5!'s inventor, Rob Haddock. Then a successful metal building contractor and now president of S-5!, Haddock is a well known author and lecturer who shares his experience and insights with audiences at trade shows, association meetings and in university
– See more at: http://designandbuildwithmetal.com/industry-news/2015/05/21/rob-haddock-receives-mca's-larry-swaney-award#sthash.Ymg6Twz2.mG4n4RN4.dpuf