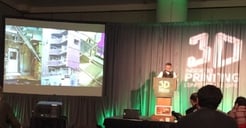 by Margot Suydam – Plans for 3-D printing are becoming more ambitious, but the A/E/C industry has yet to see a proliferation of 3-D printed items in the marketplace. But if the following list of recent developments for large-scale construction projects is any indication, the future is getting closer everyday.

For instance, Dubai officials recently announced the Dubai Future Agenda, which outlines an ambitious plan to 3-D print 25% of all the city's buildings by 2030. The citywide initiative will span all industries from construction to the medical industry, and officials said the technology will allow them to build structures in 10% of typical construction time. Dubai established itself as a 3-D printing pioneer last year with its plans for the first 3-D-printed office building.


Other large-scale 3-D printing initiatives include 3-D printer developer WASP's plans to print an entire Italian village, plus furnishings, with its mammoth delta-style printerBig Delta (see image above). WASP said Big Delta will use local soil to create the village's structures, proving that it's possible to construct solid housing almost anywhere, including in the developing world or disaster areas.
Meanwhile, according to a recent inteview on 3-Dprint.com, architect Adam Kushner says that he became excited at the possibilities of 3D printed construction when he heard about 3D Print Canal House by DUS Architects. This whet his appetite to get involved in using 3D printing for his own architectural projects.
Early in 2013, Kushner, who is Founding Principal at KUSHNER Studios/D-Shape Enterprises, says that he searched online to see who was involved in full-scale 3D, and came back with five names: DUS Architects, Contour Crafting (Khoshnevis), and Enrico Dini with his D-Shape printer. Kushner reached out to all of them, but only Dini got back to Kushner. In June 2014, Kushner traveled to Pisa, Italy to tour Dini's facilities, driving to the outskirts of Venice to see the first machine.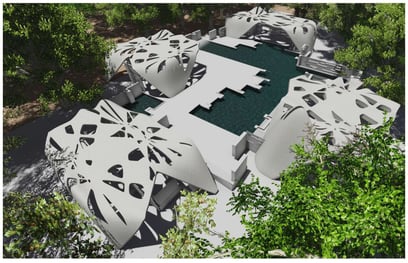 About a year before thinking of 3D printing on it, Kushner and his wife bought a five-acre property in Upstate New York. The site has become an R&D study for KUSHNER Studios and D-Shape Enterprises in developing techniques for constructing future projects.
KUSHNER Studios recently won the Architizer Award Plus Category: Architecture +3D Printing for the 3D printed house concept, formally known as the 765 North Mountain Road Pool and Canopies Pavilion. The sprawling residence will be composed of a 2,400-square-foot house, an impressively large swimming pool, pool house and detached car port, all of which will be 3D printed (See image above).
The project will use on-site rocks as aggregate material for 3D printing. The ISRU (In-situ Resource Utilization System) for construction is totally green. There's no off-gassing of VOCs (volitile organic compounds), the 3D printing materials are totally inert (sand, salt water, and magnesium).
According to Kushner, he literally had to write his own '3D printing' tick box on the permit application, rather than check 'stick built' or the other two options listed. While it took some convincing the local municipality, they ultimately approved the project and permits were issued with some speed. As far as Kushner is aware, this is the first known 3D printed building project to be approved in the US.
Created in 2007 the original D-Shape printer was the world's first construction scale 3D printing technology. Developed by civil engineer Enrico Dini, the printer consolidates crushed dolomitic limestone into a solid-stone printing material. This was largely due to the patended natural binder, which has now been successfully tested against a wide variety of crushed stone aggregates, such as marble and volcanic rock. The mechanical components are able to distribute binder across a maximum layer bed of 4metres x 4metres, with a variety of layer heights to suit required tolerances.
The innovation uncovers the opportunities for construction scale 3D printing, offering a solution within binder-powder systems for producing compressive construction elements, currently applied to architectural masonry, landscaping elements and maritime projects.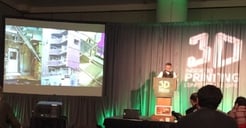 Kushner recently spoke at the Inside 3D Printing Conference. Read the complete article on Kushner's presentation on his 765 North Mountain Road Pool and Canopies Pavilion at 3-Dprint.com.
Kushner will be a featured speaker at METALCON, a conference produced by PSMJ, to be held in Baltimore, October 26-28 2016.