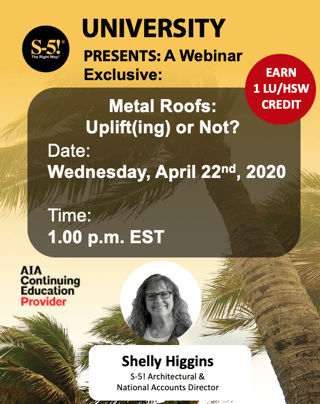 WHEN: Wednesday, April 22 at 11.00 a.m. MT/1.00 p.m. EST
WHAT: Metal Roofs – Wind Uplift(ing) or NOT?
AIA Accredited Earn: 1 LU/HSW CEU Credit Presenters: Architectural & National Accounts Director, Shelly Higgins
Discover the science of wind uplift and how it is changing. Understand how the changes are impacting codes and roof material choices. Learn about testing and specification techniques for metal roof options and accessories to improve wind uplift resistance, providing a safer building at a lower cost. This course will also address wind uplift in severe weather conditions and how to increase wind uplift resistance to protect both the buildings and its inhabitants. You'll see examples of hurricane-stricken areas and what builders are doing to minimize damage. Finally, you'll learn about the associated changes in code. Register Now.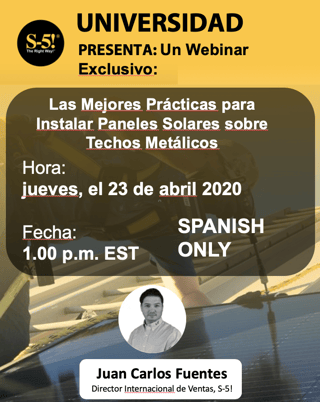 WHEN: THURSDAY, APRIL 22 AT 1:00 PM EST (jueves, el 23 de abril 2020 1.00 p.m. EST)
WHAT: Las Mejores Practicas para Instalar Paneles Solares sobre Techos Metálicos
Descripción del Curso: Con la alta demanda de energías renovables en estos tiempos, propietarios de edificios y residencias, comienzan a utilizar la energía solar como un generador esencial. Elegir la superficie correcta sobre dónde instalar los paneles solares, es muy importante para el proceso del diseño, el impacto económico inicial y al largo plazo. Este curso es acerca de los beneficios de instalar paneles solares sobre techos metálicos, los distintos tipos de sistemas de montajes, la distribución de los paneles, pruebas de rendimiento para fijaciones y sus comparaciones en costos. Register Now.
Previous S-5! webinars can be found on their website and can still be viewed. We hope you will take advantage of these great educational opportunities. If you have any questions for the folks at S-5!, please contact them at support@s-5.com.